1- Body: it is made of ABS with 3 cm thickness insulation layer.
2- Controller: it has analogue controller.
The ideal temperature inside the machine is 37.5 -37.7 degrees and the ideal humidity inside the machine is 55-65%.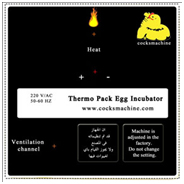 3- Fan:
Note: The machine's fan must work all the time. check the fan daily and make sure that it works properly.

4- Hygrometer:

The ideal humidity is shown with green color.

5- Thermometers: it has 2 thermometers


6- Egg Candler : doing egg candling on the 7th and 14th nights.
7- Tray: this machine has 3 kinds of trays for all kind of bird eggs. You can watch the method of changing trays on the video.

This machine has 2 shelves and note that first floor tray is different from the second floor. As shown in the below picture, the tray of the upper shelf has 4 added corners.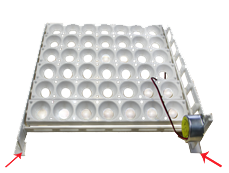 Note: Turning the eggs cannot be seen easily. To make sure that the gearbox works, put your hand on it and you must feel its shake and warmth.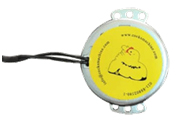 Place of connecting the motor to the digital part is shown in the previous page.
8- Water container: It has different grooves. At first only pour water in the middle groove. If after 2 hours humidity doesn't reach to 60%, add water to another groove.
The machine has a special container to help you to pour water so there is no need to remove the tray to pour water. Pour some water in the machine Every 3 days.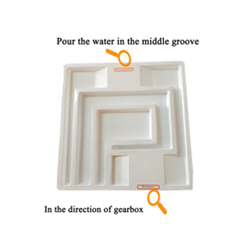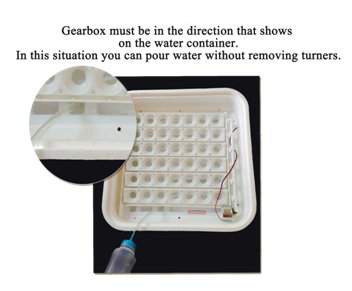 9- Hatching basket: only put this basket in the machine during the last 3 days. if you do not remove the basket during the first days, humidity does not go up.
Note that the hatching basket of the second floor is bigger.
In hatching period, remove the tray from the machine and put the basket on the water container and put eggs on it.